Code browser / source tree panel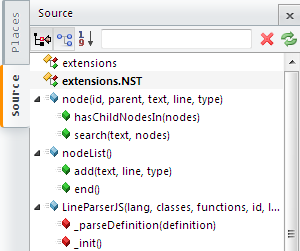 Based on great Komodo Source Tree by Iván Campaña. Now completely rewritten to implement all new features like unlimited nesting, reverse maping, persistent buttons, definition blocks and more. Tested on as big code samples as: itself (JavaScript, RDF, XUL, CSS), jQuery (JavaScript), Komodo source code (Python), MACHINE application framework (PHP, JavaScript, XHTML, HTML, CSS), DVDRip (Perl), various Komodo add-ons.
So why would you need it? If you work on big projects, it's very hard not to get lost in your code without a decent map. NST provides it, in a manner similar to Komodo Code Browser. One great feature I've discovered just tonight is it gives a hint which params functions in current file accept, in case Komodo Code Intel gets lost, and sometimes in JS it does.
Please report any bugs found, thank you.
New in NST 0.61.1
FIXED: Komodo 8.5 compatibility issues (pushed by ToddW - ActiveState)
New in NST 0.61
FIXED: Komodo 8 compatibility issues
ADDED: Ruby and C++ support (experimental, not tested yet)
New in NST 0.59
NEW: Komodo 7.0 Support
FIXED: internal dependencies removed
New in NST 0.58
FIXED: icons exception bug
FIXED: bug triggered with clicking on empty tree
New in NST 0.57
FIXED: tree column bug with another Komodo window
FIXED: moving between panels
FIXED: startup issues (initial selected state)
New in NST 0.56
FIXED: Python support (code level calculation, block literals handling)
New in NST 0.55
At last!
NST is on GitHub. There are 2 branches, stable and testing, the last one is default. The stable branch is the current release, testing - next release.
How to use the new repo on Linux:
cd ~/.komodoedit/6.1/XRE/extensions
rm -Rf
NST@nisza.org
# to remove old version first
git clone git://github.com/HTD/NST.git NST@nisza.org
For write access use
git clone git@github.com:HTD/NST.git NST@nisza.org
instead.
Behave, preserve code formatting, document your changes, and make things simple and fast. If it's too complicated - it's probably wrong. KISS should be the golden rule not limited to web developers. Complying to this rule made whole thing possible and maintainable. Let's keep it this way.